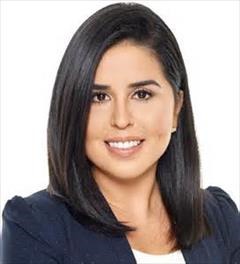 With over 14 years of Real Estate experience, Loren consistently strived to perfect what she has coined, "The Listing Concierge" from her detailed marketing strategies, market analysis to the small details of home staging. With a strong background in marketing, innovation is key to the success of each home sale.
She ensures expectations and objectives are exceeded through custom strategies, communication & the overall client experience. Working diligently to provide this level of service also includes skilled negotiations & positive result driven attitude. Prior to full time Real Estate sales, Loren was the Creative Director for a local Real Estate company and New Home Builder McMillin, overseeing all marketing activities & spearheading projects in the community.
Loren is a native of San Diego, specifically the South County, a wife of 5 years & mother of 1, a healthy and rambunctious son, Luciano.
When not working Loren loves enjoying and exploring all that San Diego has to offer. Whether a new restaurant or boating in the San Diego Bay, enjoying all San Diego has to offer is her favorite pass time.
Testimonials
We have known Loren for a long time and knew she was the right one to help us purchase our first home. Loren is very knowledgable and guided us every step of the way. We never wondered where we were in the process because she was always one step ahead. She knew exactly what we were looking for and got us what we wanted. She wrote a competitive offer and made sure our offer was accepted! Loren was amazing throughout the entire process! She turned what we thought was going to be a stressful experience into a smooth and exciting time in our lives. She was always available and never left us wondering. We recommend Loren to everyone!
Melissa Moreno, Chula Vista, CA, left feedback 0 months ago
I couldn't have asked for a better home-buying experience! Loren and I started working together about 2 years ago, when I was just starting to consider buying a home. I loved the neighborhood I was renting in and not in a huge rush to move, which helped me be very picky. Loren was so knowledgeable and gave me such a great understanding of what I should consider when purchasing and what neighborhoods may fit what I was looking for. She was so patient with me, I never felt rushed or pushed. I felt supported through the entire process. When I found MY HOME, Loren knew exactly what we needed to do to put together a competitive offer. We landed a 21 day escrow and I was traveling for 12 of those days. Loren and her team were so well organized and made the entire process easy, even while I was out of state. Like I mentioned, I could not have asked for a better home buying experience. I feel so lucky that I had Loren and her team by my side during the purchase of my first home.
Ashleigh Martinez, University Heights / San Diego, left feedback 0 months ago
Couldn't have been better! I am so thankful for her/their service!
Maureen Goff San Diego, CA, left feedback 1 months ago
More Testimonials
Pending
2920 Leonard Street
National City, CA 91950